Only one of 25 in the whole WORLD?
We've got one of 25 in the world– yes world— you heard that right!
We've had a busy start to our summer here at Zelky's! 2019 hasn't disappointed. People are LOVING the boardwalk and are catching as many summer rays on the sand as possible. The arcade and donut shop are constantly changing and improving thanks to YOUR feedback; we couldn't have gotten to where we are without you!!
As you probably already know by now, Zelky's has had a LOT of big changes this year. We're just now starting to settle down a bit for the year!
Upon opening our Central location for the summer we put up BIG banners displaying the types of merch we're going to be supplying soon. Lanyards, socks, shirts, hats, and MORE will be hitting the shelves for the first time EVER in Zelky's history!! We'll admit it: we want the boardwalk to be a river of pink and yellow apparel, and we're just starting out this venture to get to that goal. Until we get the rest of the merch in stock we have bracelets, hats, stickers, and Zelky's Donut Rings shirts available at the counter in Central at this very moment!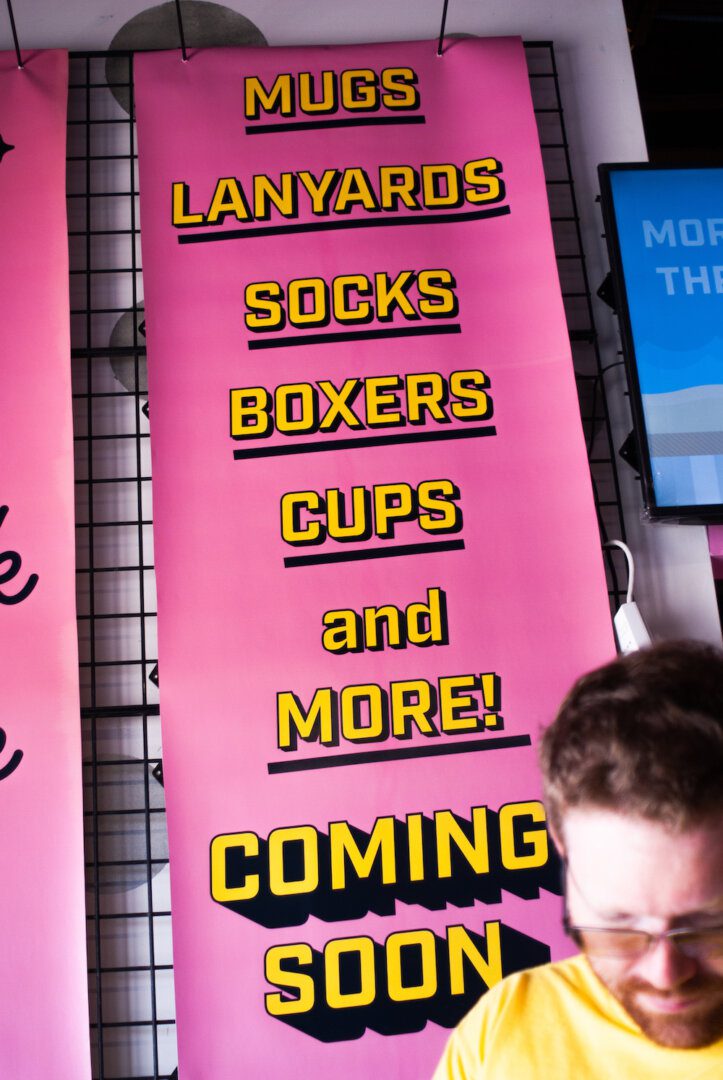 Zelky's hadn't gotten into Virtual Reality before 2019… But now the future is here: we've got a FEW different games available to you! Let me tell you a bit about them:
Chaos Jump is the first: it's a one-to-four player, FULLY-immersive, (family-friendly!) shoot-em-up game. There's only 25 of these consoles in existence, the closest being in Miami— you compete with your friends for the highest score to defeat alien robots, collect gold, and beat the big boss! Everyone puts on their OWN pair of googles, grabs their own guns, and plays the game together, interacting with each other in the same virtual world, at the same time. It's QUITE the game!! Words can't even describe the experience— the only way to fully understand it is to play it yourself!
RECLAIM! is our second VR game— it uses the same console as Chaos Jump and it's two-to-four players. This game is a completely-immersive 1st-person shooter that pits you AGAINST your friends to show off your skills. Teleport from platform to platform to reach higher vantage points as you shoot each other with lasers and throw grenades to take down your friends. It's a lot more competitive than Chaos Jump, so we recommend first trying Chaos Jump and then playing RECLAIM! with your friends if you're ready to up your game! It's also family-friendly.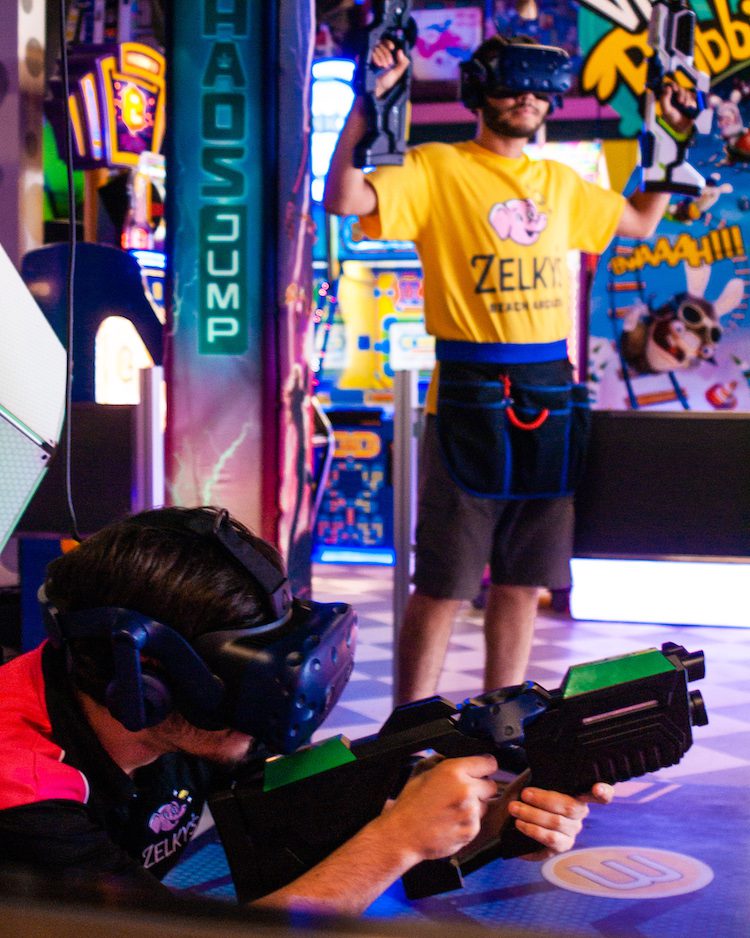 Our third and final VR game so far at Zelky's is Virtual Rabbids: The Big Ride! Ubisoft is the big video game company that made this 360-degree roller coaster experience. Sit down, put on the goggles, and experience the wacky ride as Rabbids take you through canyons and caves and into the skies! This is perfect if you've never tried VR before and want to see what it's about.
Zelky's Donut Rings just announced a few NEW sauces— 'Mallow Fluff, Caramel Creme, Strawberry Jam, and Banana Candy! We're hoping to announce "Sauce of the Day" soon. We also came out with a NEW kind of sugar— Peanut Butter Sugar! It's REALLY good stuff if you're a fan of peanut butter (hint: try the Strawberry Jam sauce with the Peanut Butter Sugar. It's fantastic.)…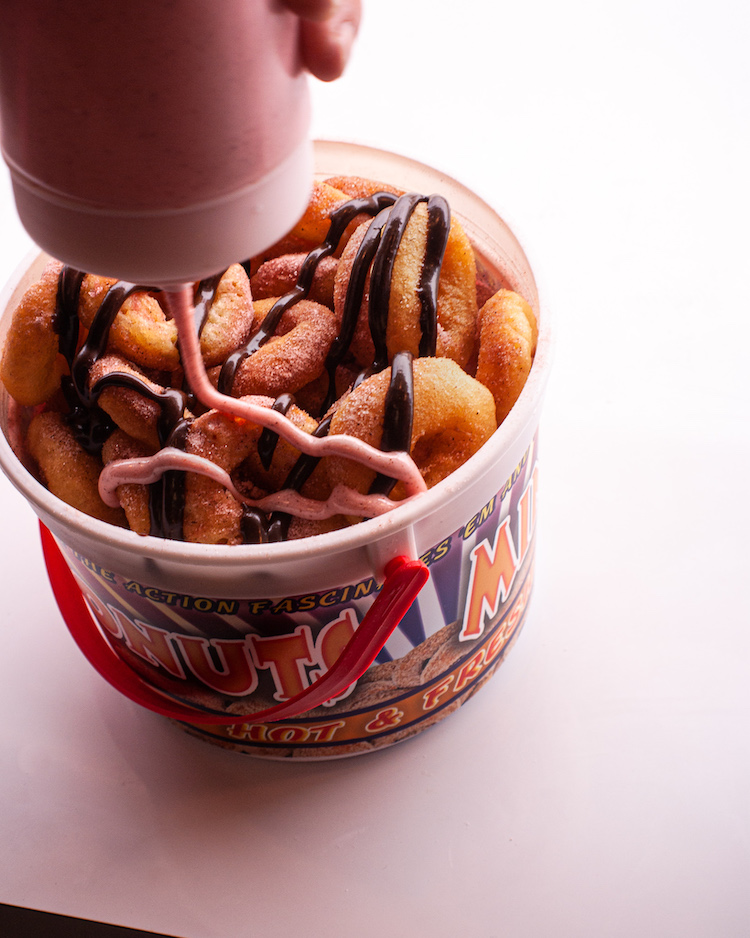 That's it for MAJOR changes… Small changes: we're looking for people to join our ever-growing team, and for the first time ever you can apply on our Staff page!
We're hiring for Zelky's Attendants, Aesthetic Attendants, Supervisors, and Food Service Managers. But note: please ONLY apply if you're ready to be dedicated and hard-working! We want to hire people fit for the job, and those two criteria are necessary for our Zelky's family members. If you think you're a great fit, please apply! 🙂
That's all for now. We're working on a variety of other new things at the moment— we'll keep you posted like we always do!!
Keep on Trunkin' friends,
Solomon at Zelky's
Follow Zelky's Beach Arcade on Instagram: @zelkysbeacharcade
Follow Zelky's Beach Arcade on Facebook: @zelkysbeacharcade
Follow Zelky's Donut Rings on Instagram: @zelkysdonuts